As we know Plastic waste in Ireland has being a growing issue which has caused government departments to act upon the matter. With us being an Irish company we have decided to start a campaign to help try stop the plastic waste each week from local clubs, organisations, & schools. Our contribution to this campaign is to do a monthly give away of €1000 worth of coolers. Along with our give away we will be sending out one of our own EWT engineers to complete the professional installation of the water cooler. Our G3 Coolers are a push button or tap control system which will supply you with an endless flow of filtered chilled water straight from the mains water supply.
Our G3 cooler system are also available for online purchase with a further €50 off when buying online, just enter coupon code NMP50OFFat the checkout. https://www.ewtechnologies.ie/ewt-g3-water-cooler/
There may still be plastic bottles used here to fill from the coolers, so we have that covered too, we have created a new BPA free EWT water bottle. We will bring along a box of these specially designed water bottles for all the members involved in each winning organisation.
If you would like to get involved and be in with a chance to win the give away and support the no more plastics campaign https://business.facebook.com/EWTGroupOfficial/?business_id=991189300992806&ref=bookmarks
If you would like to just get behind the campaign and stop using plastic bottles at home too you can also purchase our specially designed BPA free water bottles here, and receive 20% off through the campaign just use coupon code NMP20OFFat the check out. All money raised from the bottle sales will go towards continuing
to ruin our campaign for a brighter cleaner Ireland.
So please get behind us and support our campaign so we can continue to make a success of it.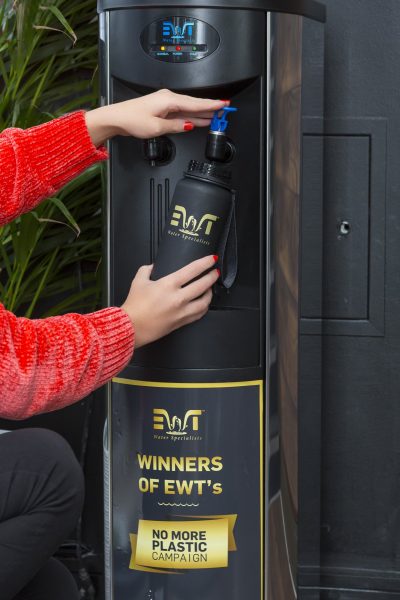 Some facts on the subject; GOVERNMENT DEPARTMENTS, PUBLIC bodies and schools are set to crack down on single-use plastics, with a number of measures including no longer purchasing single-use plastic cups, cutlery and straws for use within their offices.
Richard Bruton, the Minister for Communications, Climate Action and the Environment, is currently developing a government-wide plan to make Ireland a leader in responding to climate change. He has secured government approval to bring in a number of measures. Speaking about the development, Bruton said the public service "must be the first to show that it takes policies for sustainability seriously, if we are to persuade the rest of society to make the step changes which we need to make". "The government has approved a plan to stop purchasing single-use plastic, to cut waste in food and paper, to improve efficiency in the use of energy and water and to reshape procurement to choose sustainable options."
Every year the public service spends €12 billion in procuring goods, services and works. Bruton said by adopting green procurement, the government help create a new market for sustainable goods and services.
From today: * No government department will purchase single-use plastic cups, cutlery and straws for use within their offices *All government departments will develop resource efficiency action plans by the end of June this year; these plans will help staff make savings in energy and water use as well as preventing food waste and maximising recycling. * The department will work with the Office of Government Procurement to bring forward proposals on how national public procurement policy can take account more fully of environmental matters; this will ensure state contracts include the full life cycle cost of purchases; these proposals are to be finalised by the end of March
In addition, all public bodies including state agencies and schools will not purchase single-use plastic beverage cups, cutlery and drinking straws after 31 March 2019 – except where specific public health/hygiene or safety issues arise.
All public bodies are required to report to its respective minister by the end of November on the measures it is taking to minimise waste generation and maximise recycling.
"When it comes to green procurement the EU advice on this was published over a decade ago, their own guidelines are four years old and when it comes to resource efficiency plans many, many Irish businesses have been doing this for well over 10 years… "These proposals are weak. We are willing to collaborate, and the scale of crisis demands it, but we need much more ambition." The Green Party's Waste Reduction Bill proposes a ban on single-use plastics and the introduction of a deposit-and-return scheme for bottles.
Check out this article by the Irish examiner  https://www.irishexaminer.com/breakingnews/views/columnists/eliminating-plastic-waste-at-source-should-be-prioritised-over-recycling-930421.html