Water Softeners – EWT Gold Range Water Softeners
EWT Gold Range of Water Softeners are Guaranteed Irish, backed by a 10 year 100% component warranty from Ireland's largest water softener company. Our patented IQ Softener Resin – the most advanced water softening resin in the softener industry today, is utilized in our Gold Range water softeners
Water Softeners – EWT Gold Range Water Softeners
EWT Gold Range of Water Softeners are Guaranteed Irish, backed by a 10 year 100% component warranty from Ireland's largest water softener company. Our patented IQ Softener Resin – the most advanced water softening resin in the softener industry today, is utilized in our Gold Range water softeners
Water Softeners – EWT Gold Range Water Softeners
EWT Gold Range of Water Softeners are Guaranteed Irish, backed by a 10 year 100% component warranty from Ireland's largest water softener company. Our patented IQ Softener Resin – the most advanced water softening resin in the softener industry today, is utilized in our Gold Range water softeners
Water Softeners – EWT Gold Range Water Softeners
EWT Gold Range of Water Softeners are Guaranteed Irish, backed by a 10 year 100% component warranty from Ireland's largest water softener company. Our patented IQ Softener Resin – the most advanced water softening resin in the softener industry today, is utilized in our Gold Range water softeners
Compact dual
all in one system

Our EWT Dual, Delivers 100% Limescale Removal , Soft Water and Filtered Drinking water all in one compact system
Efficient

Meters your water usage and only regenerates when you need it to
Robust testing

1 million test cycles to make our product robust and reliable
Flow Rate

Our Highest ever flow rate of 28 litres per minute Suitable for High Flow Rate combi boilers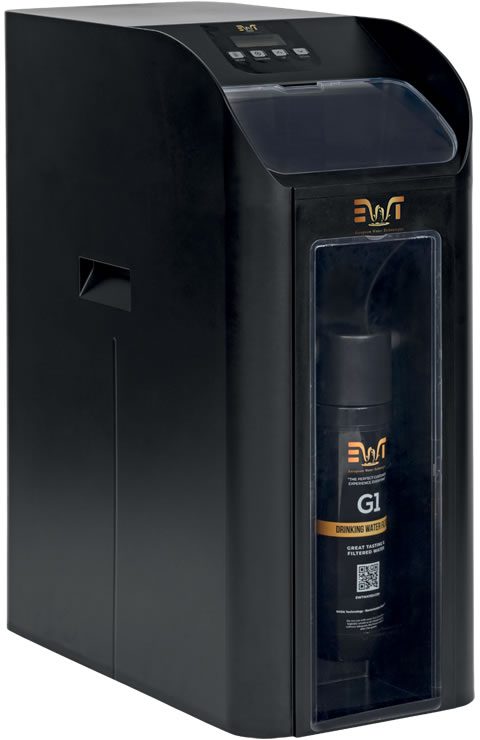 Smart App

It's Connected to EWT App, for reminders for salt, filters and much more
Advanced resin bead

Advanced food grade G191 fine mesh resin, 20% more efficient than before
Warranty

10 Year parts warranty from one of Europe's and UK Largest water treatment companies
Fast Regen system

Fast regen design allows 24/7 softened water with only 20 min regen per 800 litres of softened water when the unit not in use
Water Softeners – EWT Gold Range Water Softeners
EWT Gold Range of Water Softeners are Guaranteed Irish, backed by a 10 year 100% component warranty from Ireland's largest water softener company. Our patented IQ Softener Resin – the most advanced water softening resin in the softener industry today, is utilized in our Gold Range water softeners
"The Perfect Experience Every Time" Emma Kilroy
11:06 17 May 23
System fitted by Vladimir this week. Very quick and clean install. Friendly and professional too. Rita Wilson
07:54 26 Mar 23
Excellent service. Very professionally done. So neat and tidy. Would definitely recommend EWT. Avram Gina Și Iulian
12:04 24 Mar 23
Very nice experience
I installed a water softener system last year with EW Technologies, and I upgraded the drinking water system this week. On both occasions, I remarked on the professional service delivery of the customer service, and the field

...

engineer Mr Nauris. Much appreciated and highly recommended.
Iulian

Date of experience: 15 March 2023

read more

VALERIE Forman
11:46 26 May 23
M email queries were answered quickly and dealt with efficiently byAbbie. Thank you

Elsabé van Zyl
10:17 24 May 23
Our EWT unit was just fitted by Vladimir👌. Precision! Professional! Clean and friendly. We appreciated his professional advice to some of our concerns. We are well impressed and extremely happy. Can't wait to experience what this unit

...

offers. Thank you!!Ella du Plooy

read more

Nelson Dsouza
09:12 24 May 23
Deidre was kind in helping me to set up service. I had issues with app and that too looked after .Thank you.

Caoimhin O Tuathail
13:11 23 May 23
Very efficient service from a very helpful Abbie, really appreciated. Regards Kevin/ Ashbourne

S OR
09:45 22 May 23
Excellent service from start to finish. Would highly recommend Ew Technologies for a high quality water softener and drinking water.

yogesh verma
09:21 22 May 23
Wow I am very impressed with the representative support and help. I am very happy.

Joe Kelly
18:20 19 May 23
The email received from Abbie was courteous and prompt with all my queries answered.

Phyl Hand
15:04 19 May 23
I contacted Michael in the call centre and he was extremely helpful,polite and very efficent. Well done.

thiago coelho
12:04 19 May 23
Great work from Vladimir the water system installation was spotless.

rob mcnally
11:51 18 May 23
I had an issue regarding my next service, Clare was super helpful in resolving the problem 👍.

Ann Field
18:48 17 May 23
EWT water filtration system is hugely beneficial to me. I live in a hard water area and notice a huge improvement in drinking water. Quick installation with no mess.

Stephen Hamer
08:29 16 May 23
Excellent response and action from Deidre, who was able to sort my issue immediately.

Karen Muldoon
17:22 15 May 23
Vladimir installed the water softening unit and filter tap. He was very friendly, efficient, tidy and helpful. I was given reminders about the appointment coming up to it too. I would highly recommend EWT.

Helen Daly
16:50 15 May 23
Excellent service replace the tap due to a leak and response was fantastic within a couple of hours of phoning in with the problem leak

Sertac Akin
11:05 15 May 23
Very impressed with our installing engineer Vladimir's fast and clean work. He even went above and beyond by cutting a small shelf for the cabinet to save some space after filter's installation. So far we are happy with the product.

James Keane
16:21 13 May 23
Nice and easy installation, all done in less than 2 hours.The improvement in the drinking water quality is great.The unit is nice and quiet and even after 1 week we can appreciate the benefit of having soft water in the house.

Vicky Dalwani
07:11 12 May 23
I'm really happy with the service provided by EWT, Vladimir installed the Gold Series 606 for me, he was on time, quite professional, efficient and helped with all the queries I had. Highly recommended!

Sharon Blaney
11:40 11 May 23
Deirdre was brilliant she explained everything in detail and was able to answer all my query's

mohsan amin
11:15 11 May 23
Very quick and positive response and good customer service

vijay daniel
16:47 10 May 23
Abbie from EWT is amazing and very friendly, helped with my doubts and took the booking immediately.

yvonne soon
11:02 10 May 23
Thank you very much for the help from Abbie.Has changed the appointment for few time and she's still replying very quick by email. Very happy with her service.

Sabrina Nolan
07:24 10 May 23
Thomas was so lovely to deal with and so was the rest of the staff from EW Technologies.Thomas installed our new water system very well and helped me out with any questions etc.I would highly recommend him and this company to anyone if they have

...

limescale in their water.I am very happy with it because my whole house is now Limescale free so all my appliances will last much longer Thank you so much Thomas. Kind regards,Sabrina.

read more

Tiji Jose
10:14 08 May 23
I installed a water softener with filtered drinking water system from EWT last month. Vladimir the engineer delivered a remarkable professional service and Claire provided an excellent customer care support, both an asset to EWT. Moreover I can

...

feel the difference in water the hardness and limescale very less. I recommended to my friends and family and would definitely suggest to everyone. Thanks to EWT.

read more

Vincent Dolan
08:22 04 May 23
Very mixed experience with EWT. Engineer turned up even though I rescheduled 3 times. I phoned office & spoke to male operator but he didn't do what he said he would. Deirdre on the other hand was excellent

Nancy Ford
12:22 03 May 23
Very helpful and pleasant to work with. Highly recommend.Diedre was a pleasure to work with.

Lourdes Nena
12:13 03 May 23
Ordered a wrong product, spoke to Claire, issues resolved. Great product with good service.

Alison Redmond
15:13 02 May 23
Excellent customer service. Claire was so nice and helpful and solved my issue immediately.

Careena Fitzpatrick
10:41 02 May 23
I would like to say what a great positive experience I had this morning with your company. The person I spoke with was Deirdre she listen to my problem. I was very upset with my pervious call to your company which I intend to complain about. Deirdre

...

was kind understand and very knowledgeable she solved my issue in minutes. What was an bad experience Deirdre turn it in to a really good. Thank you Deirdre very much appreciated

read more

conor croke
08:42 29 Apr 23
Abbie was extremely helpful in dealing with my inquiry and organised my engineers visit very efficiently and clearly. Excellent service.

Suresh B
07:21 29 Apr 23
Fantastic job by EWT from the Covid 19 time till now, no complaints at all.

Tayo Denloye
10:55 28 Apr 23
Deirdre was very courteous and helpful. Offering savings suggestions too. She took note of all my issues, booked me in and was very pleasant all through $

Vincent Breen
07:02 28 Apr 23
I've had trouble with hard water problems for years. Kettles , showers immersion heaters all got clogged up with lime. Since Ewt put in their water softening system I've had zero problems with all of the above. Their yearly service is very efficient

...

and completed in minimum amount of time at a time that suits me . EWT system is probably one of the best purchases that I've ever made . I couldn't go back to the hard water .I've just had my EWT service agent in to do the 2022 service on my water softener . Everything working well.I still have no limescale problems with my kettle ,emersion, dishwasher, iron or washing machineI've just had the no most wonderful experience talking to Deirdre in EWT about moving my water softener from my old house to my new place. She guided me through everything with such patience and understanding and we even had a laugh or two on the way. Thanks for sorting both appointments Deirdre , you couldn't have more helpful.RegardsVincentI've just had my EWT soft water system removed from one house and installed in another. It was done so professionally from Deirdre in head office arranging both dates so efficiently to Nauris doing the removal on Monday to Vladamir installing the next day leaving no mess behind. A follow up call from Deirdre to make sure I was happy with everything was a pleasant surprise. Well done to the whole team in EWT.Limestone used to destroy everything in my house , kettles irons dishwasher and immersion heater but I've had no priblems in the last 10 years .Happy daysVincent

read more

John Casey
20:51 27 Apr 23
Great company and very pleasant and helpful staff, highly recommended

Tom francy
13:02 26 Apr 23
Had great help from Deirdre, excellent service

Dermot Rowan
09:40 26 Apr 23
Been with EWT for a good few years now, their water system is fantastic, their service and staff second to none. Booked a service with Deirdre today and she was very efficient and friendly and most importantly professional, highly recommend EWT.

maaz khokhar
23:07 25 Apr 23
Vladimir the engineer was fantastic. He arrived on time, was very polite and friendly. He fitted the system in a timely manner and was very neat. He provided clear instructions in how to refill the salt and explained how the yearly servicing will

...

work. Excellent service. Highly recommended.

read more

Brixhilda Domi
14:42 24 Apr 23
Abbie was vey helpful on providing fast support.

lilita slaidina
08:33 21 Apr 23
Just was contacting EWT costumer service to help me with bookingWas really appreciate support and guidance Clare providedLots of gratitude Lilita swords

Green Marine 87
08:57 20 Apr 23
I had this model E606 gold installed in my brand new house for a year now and I have to say what a fantastic job it does. No more cleaning limescale around the taps or in the kettle as the pictures show. Best decision ever made. Well worth the price.

Leah Casey
20:22 19 Apr 23
Phoned today with an issue. Deirdre was more than helpful and I had an engineer at my door within hours. 5 star as always

Paula Murphy
12:16 19 Apr 23
Deirdre was very pleasant and professional, she dealt with my query very promptly. Highly recommend EWT

Claire Brannigan
13:18 18 Apr 23
I'm thrilled with my water system. I've been wanting 1 for a few years now and I finally have it now. No more struggling with 6 × 2 litre packs of water. I was buying 2 × 6 packs a week ! I will have more room on the recycling now as I will be using

...

way less plastic bottles. The engineer was really professional, the fitting went well. The drinking water tap is really nice. The water is nice and cold. I'm really happy we made the investment.

read more

Syed Kazim Husain Abidi
08:47 18 Apr 23
I got my water softener installed today by Vladimir, experienced professional with great experience. He is very kind and polite.Fantastic service with neat and clean work. I would recommend EWT.ThanksSyed

Jonathan Atkinson
16:04 17 Apr 23
We are delighted with our water softener and drinking water tap! Vladimir was extremely professional and helpful when he came out to install the system for us. He advised on which system was best for our needs and did an extremely tidy job of

...

installing everything under our kitchen sink. He even modified our sink cupboard shelf for us so that it would fit beside the softener system. We would highly recommend this service to anyone looking for a water softener!

read more

swatilekha mukherjee
11:56 17 Apr 23
Had a very helpful interaction with Claire this morning, to get some information on the device and how to check if it is working efficiently. Very helpful, thank you. Initial interaction, with installation engineer Vladimir, he was superb to install

...

the device and initial set up.

read more

Paul Holdstock
10:10 17 Apr 23
Great service, fast install and expert advice. Thank you Vladimir.

Diane Clarke
18:38 15 Apr 23
Had an issue, but it was resolved very quickly. Deirdre couldn't have been more helpful

Esté
11:47 14 Apr 23
Great service from the get go. Abbie was very responsive and helpful explaining the different systems. Our appointment was scheduled at a convenient time for us. Nauris was quick and efficient when installing the system, even transformed the

...

shelving to ensure we don't loose additional storage space.

read more

Jacqui Leonard
10:24 14 Apr 23
EW was so helpful I spoke to a girl called Abbie she was so helpful she answer all my question so lovely and so polite

Patricia Zemmour
10:17 14 Apr 23
Deirdre was very efficient in dealing with my request and was able to provide a solution.

Sile O'Neill
15:26 13 Apr 23
Excellent service from Dale.Certainly recommend EWT.

v c
09:59 13 Apr 23
I've been a client for a few years now. Booked a service with Claire earlier today. She was efficient and helpful.

Rakhi Jose
08:57 13 Apr 23
I called the EWT customer service and spoke to staff Abbie to place an order and she was very helpful.Excellent service.Thank you Abbie.

Emer Molloy
10:19 12 Apr 23
Deirdre had all the information I needed when I called and we got a service of our system scheduled by the end of the call.

Louise Friel
09:14 12 Apr 23
Deirdre was very professional and helpful

Stephane Vander Elst
16:10 11 Apr 23
Had to discuss my account and Abbie deal with me in a very efficient way. really pleased

T Finlay
18:29 07 Apr 23
Excellent service and prompt delivery. Water system is fantastic the water tastes delicious. The baths and showers are so soft and silky

Annette Riley
09:28 07 Apr 23
Excellent customer care. Dealt with Claire this morning and she was very patient and easy to talk to. Great service

Bernard Simpson
10:17 06 Apr 23
Dealt with Claire this morning to book a Service for my installation. Claire was efficient and helpful.

ANNA LENCEWICZ
10:47 05 Apr 23
Very quick response from EWT and Abbie was very helpful to get me an appointment for the service

Chandan KB
09:51 05 Apr 23
Customer care is really nice and give you all info you need.Recommended

Rzzr Boy
09:29 04 Apr 23
Just organised a service for our softener and filter with Deirdre. Delightful to deal with and super helpful. Excellent customer service.

Pat O'Mahony
10:57 03 Apr 23
Excellent advice and service this morning from Claire. All my questions answered competently and completely and my order processed efficiently. Very well done Claire. 10 out of 10. Pat O'M.

Gerard Mc Sweeney
21:23 31 Mar 23
Top class service ,Great job and made a big difference to the water coming from mains supply.

Louise Kennedy
18:40 31 Mar 23
Abbie was very helpful and answered all my questions promptly

gary oconnor
17:22 31 Mar 23
Deirdre and Mario the engineer couldn't have been better. Excellent service. They appreciate customers.

Rafael
12:26 31 Mar 23
I moved to a hard water region a year ago and started suffering skin allergies. One of our showers also needed replacement due to hard water damage! I had the system installed by lovely Tomas, who was instructive and helpful in advising on best

...

practices for the water softener system. We're at 1 month of using the water softener and my skin is not rashy anymore, and the water marks in the shower are almost nonexistent. Both the system and installation are of great quality. Thank you EWT for the amazing product and professionalism!

read more

Francis Glancy
13:44 29 Mar 23
Very happy with installation and the engineer Vladimirs was friendly and professional.

shinoj john
10:31 29 Mar 23
Hi all, it's a great experience to be with EWT, the customer support (Nikhil from Dubai office) was really great in giving suggestions suiting our budget. Highly recommend EWT

Maria Jackson
10:26 28 Mar 23
I dealt with Deirdre she was Super helpful and lovely to deal with thanks Deirdre👍

Lillian Flynn
14:50 27 Mar 23
Very efficient services. Staff friendly and very helpful.

Ameya Dighe
13:20 27 Mar 23
Excellent customer support. They listen and provide you with the best possible solution to suit your individual needs. A very personalised approach. Highly recommended team.A***** Staff.

Ramune Dunphy
10:05 27 Mar 23
Customer service was superb, from talking on the phone to dealing in person ( Vladimir was very good to explain everything in detail) No mess , no fuss👍👍👍

Iulian Avram
11:54 24 Mar 23
Exceptionally reliable company.The service and the product as described.I am very delighted.Date of experience: 27 June 2022

Gary Doyle
10:38 24 Mar 23
Great to deal with and would recommend

SKAISTE Prielaidaite
11:48 23 Mar 23
Great service!

Sean Young
17:38 22 Mar 23
With EQ Technologies a few years. Office staff excellent when arranging and notifying me of service visits. Services carried out efficiently and on time , with the friendly technicians offering advice on usage of the system. Would recommend EW to

...

others.Had my water treatment service last week and EW Technologies maintained the same level of professionalism that I've become used to. The technician turned up on time, carried out the service efficiently, explained what he was doing throughout and provided some bits of advice on the running of the system. Would continue to recommend this company.

read more

john maher
11:53 22 Mar 23
I have had great experience with EWY there service is very good and the engineers are very good I would recommend them to anyone Regards John Maher

Pauline Kenny
10:57 22 Mar 23
I found EW Technologies to be very professsional and helpful, with a great product.

David A (David)
10:36 21 Mar 23
This company is fantastic to deal with. So efficient with services and call centre staff so helpful.

Orla O'Shea
16:44 20 Mar 23
This company is fantastic to deal with. So efficient with services and call centre staff so helpful. Since getting this softener in the house we have had no lime and filtered drinking water. It's the best water softener going.
Next Reviews