Water Softeners – EWT Gold Range Water Softeners
EWT Gold Range of Water Softeners are Guaranteed Irish, backed by a 10 year 100% component warranty from Ireland's largest water softener company. Our patented IQ Softener Resin – the most advanced water softening resin in the softener industry today, is utilized in our Gold Range water softeners
Water Softeners – EWT Gold Range Water Softeners
EWT Gold Range of Water Softeners are Guaranteed Irish, backed by a 10 year 100% component warranty from Ireland's largest water softener company. Our patented IQ Softener Resin – the most advanced water softening resin in the softener industry today, is utilized in our Gold Range water softeners
Water Softeners – EWT Gold Range Water Softeners
EWT Gold Range of Water Softeners are Guaranteed Irish, backed by a 10 year 100% component warranty from Ireland's largest water softener company. Our patented IQ Softener Resin – the most advanced water softening resin in the softener industry today, is utilized in our Gold Range water softeners
Water Softeners – EWT Gold Range Water Softeners
EWT Gold Range of Water Softeners are Guaranteed Irish, backed by a 10 year 100% component warranty from Ireland's largest water softener company. Our patented IQ Softener Resin – the most advanced water softening resin in the softener industry today, is utilized in our Gold Range water softeners
Compact dual
all in one system

Our EWT Dual, Delivers 100% Limescale Removal , Soft Water and Filtered Drinking water all in one compact system
Efficient

Meters your water usage and only regenerates when you need it to
Robust testing

1 million test cycles to make our product robust and reliable
Flow Rate

Our Highest ever flow rate of 28 litres per minute Suitable for High Flow Rate combi boilers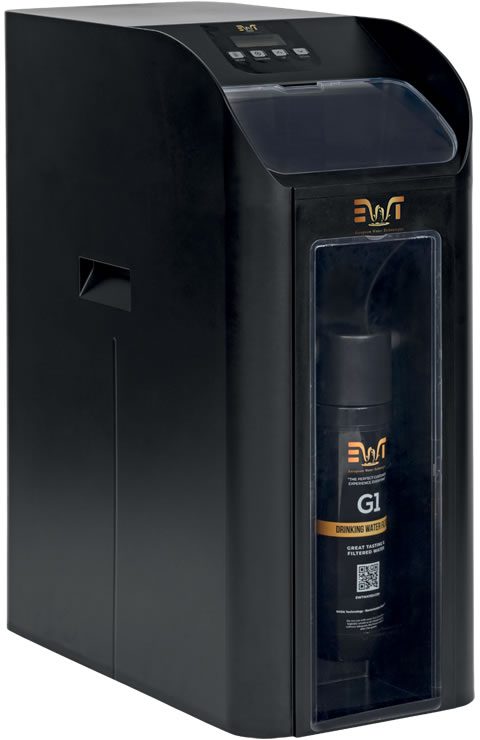 Smart App

It's Connected to EWT App, for reminders for salt, filters and much more
Advanced resin bead

Advanced food grade G191 fine mesh resin, 20% more efficient than before
Warranty

10 Year parts warranty from one of Europe's and UK Largest water treatment companies
Fast Regen system

Fast regen design allows 24/7 softened water with only 20 min regen per 800 litres of softened water when the unit not in use
Water Softeners – EWT Gold Range Water Softeners
EWT Gold Range of Water Softeners are Guaranteed Irish, backed by a 10 year 100% component warranty from Ireland's largest water softener company. Our patented IQ Softener Resin – the most advanced water softening resin in the softener industry today, is utilized in our Gold Range water softeners
"The Perfect Experience Every Time" Steve Harris
07:43 29 Jun 22
Excellent service
Turned up on time
Very thorough and professional very polite and informative
I've had my water softener for 4 years and it has been trouble free
Would be happy to recommend Rock Master
23:33 25 Jun 22
Excellent service and good product. Vladimir the engineer was awesome. Arrived in good time and installed the devices efficiently. I highly recommend EWT.

Ade

alan fennelly
19:18 30 Jun 22
Spoke with Deirdre she advised to book service on app as I can use €15 credit towards service . Found her very helpful and polite . Thanks for the help Deirdre 🙂 will book on app.

joe byrne
18:37 30 Jun 22
Was dealing with a lady called DierdreAnd have to be honest she absolutely helped with every enquiry I had really pleased with the service .

Matthew Mooney
15:37 30 Jun 22
Spoke with deirdre she was very helpful answered all questions asked . Very happy with the difference in the water would recommend ewt

Clare Dixon
14:59 30 Jun 22
I cant thank deirdre enough she has went above and beyond for me since i started to deal with this company she even done follow up calls with me thanks million deirdre.

Bobby D.
14:04 30 Jun 22
Today I made an over the phone inquiry about having a G21 filtration system installed. My call was handled by Claire who was friendly and very helpful. Claire was very informative and after all my queries being answered I decided to make a booking.

Mable Thomas
11:49 30 Jun 22
We got installed this month. Their service was fantastic. Moreover, Ben was so helpful in explaining products and services. I would like to recommend this products to my friends as well.

Jade O'Neill
09:17 30 Jun 22
Dealt with a wonderful girl called Claire today . Very happy with the service I received. Claire gave me loads of information, I would highly recommend her

Clare Shine
08:36 30 Jun 22
I can't thank deirdre enough so helpful talked me threw everything I need to know. She's such a creadit to your company

Harold Carag
19:56 29 Jun 22
Generally very good experience with EWTech, Ive been with them for 15 years now and I have no complains well aside from the inflation of the annual service fee. But all in all they are highly recommended.

sin chye sia
13:20 29 Jun 22
great and fast service. nice staff specially VLADIMIR.

Susan O' Neill
12:32 29 Jun 22
I was helped by a lovely girl called Claire today, she was very knowledgeable about the companies products and services, very professional and helped me to make a decision on what solution was best for my home.

Aisling O'Brien
11:42 29 Jun 22
My experience working with Deirdre was nothing but excellent. I found her to be extremely helpful and courteous. I will be recommending the company to all I know.

Emma "Em" S
11:32 29 Jun 22
I dealth with Deirdre directly and found her very helpful and I would be quick to recommend her anytime.

William O'Donnell
10:55 29 Jun 22
I had Pat, a service engineer for a call out. He was very efficient and helpful. Excellent service, solved our problem with little fuss. Thanks again.Also Claire solved the issue with the bill in no time. Thanks Claire.

Abin Thomas
14:11 28 Jun 22
am writing this review about a sale agent in your company, his name is Ben (if am wright,sorry if I pronounce wrong) he is from Kerala. One of the great experiences, the way he explain about product details clear and precise. I believe this is the

...

right way of dealing a costumer. I bought the product and I am looking forward the same from the company in customer relationship in future. thanks

read more

Terri Clarke
12:20 28 Jun 22
Absolutely excellent service Claire went above and beyond to help us outThey arrived when they said they would and Valadimir who installed they new unit was so friendly and he was so fast and efficientI would highly recommend EWT

Susan McKeever
10:16 28 Jun 22
Great experience with EWT, from the lovely friendly Claire who answered my call and arranged a call out, to Nauris the engineer who is so experienced and efficient, he explains everything and is so particular to make sure my kitchen is spotless

...

afterwards. A really good experience from beginning to end.

read more

Francis McCormack
09:44 28 Jun 22
Excellent Customer Service - When I rang EWT for my annual water softener machine service, my call was answered promptly. Claire was very amiable, helpful and informative when answering my enquiries. Thank you Claire!!

Emer Moriarty
09:35 28 Jun 22
Excellent customer service from both Deirdre & Kyle

Mauretti Bn Ui Fhlatharta
19:20 27 Jun 22
Had a call from Claire today re service appointment. Very professional and a very pleasing and friendly voice. A very happy customer.

AA
23:39 25 Jun 22
Very good service. The product is very good. Vladimir the engineer was awesome. I highly recommend EWT.Ade

Rajeev Gupte
14:10 24 Jun 22
Ordering salt. Good customer experience

Jenny C
11:06 24 Jun 22
Second time ordering from EWT and as always, very helpful information on the various options shared by the EWT team particularly the help from Ben. He followed up with calls as promised to ensure my account was set up properly. Looking forward to

...

getting my new drinking water and softener system installed!

read more

Sebastian M
13:32 23 Jun 22
Highly recommend!!!Products are high level equipment and I'm very happy on my water filter.Clair provide excellent costumer care service.Just go for it!

Iga S
10:04 23 Jun 22
I use the water softener for number of years and delighted with the performance. Worth to mention the customer service is excellent. I dealt with Ben who was very helpful in arranging the slip payment for me and answered all my questions.

ROBERT SMART
08:58 23 Jun 22
Excellent customer service. Orders and service done very quickly and if an issue arises they look after it quickly and professionally. Thanks to Claire for sorting me out this week and being flexible with the arrangements.

david boalnd
08:30 23 Jun 22
Booked the wrong package but Claire rang me to rebook the correct package and had me sorted in no time , excellent service 👍

Carol Quinlan
09:13 22 Jun 22
Dealt with Claire on the phone and she was extremely polite and helpful for me to get my service done...

laura kelly
08:43 22 Jun 22
I cannot recommend Claire enough to deal with she is very professional and knows exactly what you are looking for thank you for all your help and advice will deffintly be spreading the word thankyou Claire.

Edel Guinan
21:34 21 Jun 22
Would highly recommend. Paul did a fantastic job installing my new softener, flawless and all done within an hour. Very tidy work, clearly explained and I saw an immediate result. Sorry I didn't do it sooner.

Mandy Johnson
18:44 21 Jun 22
Thank you Claire for the help today

Martin O'Carroll
11:03 21 Jun 22
I keep having problems making a payment via the App. I phoned customer service and Deirdre answered promptly and completed my request quickly and professionally. I wish all customer service departments worked like this. Thank you.

DOREEN IMATAA
15:41 13 Jun 22
It's my second year with EWT WATER, this time was special because I has the whole unit of drinking water and general household use with the dual compact water softener, very good services with Vladimir who is well mannered and very helpful and easy

...

to deal with..am really excited, great services!

read more

Michelle Mc Gregor
16:23 10 Jun 22
Posting for my mam: I ordered salt a few days ago. I dealt with Claire and I must say I found her very pleasant and friendly to deal with. I travel a lot throughout the week but this wasn't an issue for her she was very accomodating and got me an

...

appointment that suited me. The whole process was very easy and simple. Can't recommend her enough although I'm sure I'm not the first or will I be the last to find Claire so friendly all while being professional.10/10 from me.

read more

Mark Blake
09:45 10 Jun 22
I dealt with Claire who was extremely professional and pleasant to deal with, a technician has to call for an issue I have with the softener but overall an extremely professional company to deal with.

Eleanor Hovenden
14:04 09 Jun 22
I was in touch with EW Technologies yesterday, and spoke with a gentleman named Ben. He was very helpful, by sorting out my order. Thank you Ben. I will recommend EW Technologies to my friends and family.

Fidelma McManus-Smyth
09:46 08 Jun 22
Vladimir was very pleasant and efficient engineer. He installed the EWT Gold 606 very quickly and cleanly. He went through all the instructions and answered all our questions. Will definitely recommend to friends and family.

Gerard Higgins
11:06 07 Jun 22
Rang EW Technologies today spoke to customer service ambassador Claire who could not have been more helpful.All questions answered in a timely and professional manner. Would have no problem recommending their company.

Fey Ato
14:14 03 Jun 22
Well good service provider. I was having issues ordering on the app. A gentleman man Ben, helped out with all my queries and sorted out my order. He was very patient, helpful and gav good advice. He is a credit to the company.Will recommend EWT.

Reece
12:44 03 Jun 22
Spoke to a lady called Claire so was polite and very helpful definitely knew what she was on about will definitely be recommending ewt to others!

Loredana Mirea
10:55 03 Jun 22
Great customer service,efficient communication from Claire,she is very helpful and pleasant!Highly recommended!

RajyaLakshmi Narra
13:02 01 Jun 22
Fast delivery and installation. Great team to deal with, especially Ben who guided me with right product and Thomas did a wonderful Job today with installation process. Thanks to EWT.Regards,Raji

Toni Geoghegan
09:38 01 Jun 22
Derdre was excellent at her job. Delt with my issue immediately. Thank you.

Lorraine Mc Mahon
14:56 30 May 22
The best decision I ever made was to get in the water softener system. Ben was so helpful with regards to what products was available and what was best suited for my home. The Service was scheduled so fast. Mario, the service engineer came and was

...

so professional. I have never encountered a professional like him before. He was outstanding in his work and so clean and tidy. I would highly recommend EWT to everyone.

read more

Sinead Brennan
09:11 30 May 22
Fantastic service start to finish. I phoned EWT and spoke to Deirdre I couldn't have received better customer service and product knowledge. Deirdre talked me through all of the products and gave great advice as to what would suit our needs and

...

home. I have 3 small children at home so knowing they have clean drinking water and no more limescale building everyday in our kettle. Our installer was fantastic too so quick professional and clean. It's a brilliant service and the water is so clear and tastes great would recommend to everyone.

read more

Jessica Luciana G M
08:35 30 May 22
Tomas did an amazing work and was super polite and friendly. All the process was super fast and I can notice the difference in water already and it has only been 3 days! So happy with the service. One small downside is the amount of emails I got but

...

they've all been informative as well, so just personal preference there. Thanks, team!

read more

abubaker elhaj
14:16 26 May 22
Very good experience.Ben was very helpful

Lucy Callaly
08:20 25 May 22
I rang EWT and spoke to Deirdre was going to book a service she advised I'd credit on my app.... to book the service through the app as I'd 15 euro credit on there.. I found this very helpful and for deirdre to have been so helpful and nice to speak

...

to she mad my day....

read more

Simone Mooney
19:01 23 May 22
Fantastic service. I dealt with Deirdre and she was very helpful and professional.

Mercy Varghese
10:39 20 May 22
Very positive experience. Ben Varghese was very helpful 👍

Myra Wall
11:32 16 May 22
Great service from EWT as always. Having a water softener in has made a huge difference in all our appliances and cleaning our bathroom especially. would definitely recommend!

Sudheesh S
07:21 13 May 22
The installation was great. Ben from the sales team was fantastic.Water quality and taste has significantly improved after installing the softener and RO.

Oksana Boruseviciene
18:20 12 May 22
Couple suggestions.Requested a call back twice, but a few days later no luck. Then I called myself to make an order and get advice on what softener should I go with. Softener installed and working fine.Running out of the salt. Checked the EWT app

...

only for bulk orders. Minimum order 10 bags. Unfortunately, I have no space to keep 10 bags at my place. So start looking elsewhere to purchase salt.Silly that you have no subscription option where you get salt delivered, even with a minimum order for two bags every 2-3 months. I'd say most of us would do that. That could bring some $ in 👊After all, I do rate 5 stars💫 because the technician saved the day. Very professional and pleasant. Thank you and welcome.

read more

Xiaolong Liu
09:17 12 May 22
Have got my water softener installed this week. The engineer is professional. He explained to us how to use and maintain the system. Everything is good so far.

Shauna Bates
09:06 11 May 22
Great service from the customer care agent Claire that I dealt with. Claire was very professional and helpful and dealt with my query in a timely manner. I would have no problem in recommending EWT.

Heather Marian Nestor
08:55 11 May 22
I dont give 5 stars easily however when a job is well done I can't but reflect it in my review. Dealt with a polite, professional, knowledgeable employee that had the ability to efficiently answer all of my questions, provide advice and reassurance.

...

She was patient, efficient and helpful to say the least. Claire Thank you for your assistance. It's encouraging to be able to talk to someone who knows what they are talking abt.

read more

Alan Doran
21:20 10 May 22
Just dealt with Victoria today and found her to be very informative and helpful offering a number of call out options, repairs and upgrades to my water softener system

Gena Lawless
14:37 10 May 22
Great service, great product, was a pleasure dealing with a lovely girl named Claire, who was very friendly and professional.Would recommend!

Linda N
10:55 10 May 22
We had very hard water here in the house , got installed and the difference in our water is amazing . I have spoke to a lovely girl Deirdre who was very helpful and professional . I'd definitely recommend Ewt

carlos de bunes
08:09 10 May 22
Very friendly stuff. Ben provided an excellent customer service. Fullly recommended.

Suzanne Ennis
11:50 09 May 22
I've dealt with Deirdre in the office on a few occasions have always found her extremely professional , she has always gone above and beyond to provide a perfect customer service , it's nice to have a friendly voice at the end of the phone . Well

...

done Deirdre , keep up the good work .

read more

Tatyana Chereda
10:51 05 May 22
Amazing team. Awesome support, Ben was very helpful. We are really happy with products. Vladimir did installation very quick and leave our house clean. He provide really good service. Thank you

Susan Bates
08:38 04 May 22
Just spoke to an amazing girl called Deirdre and she literally went above and beyond to help me out this morning with a quiery !! And honestly she made my day she absolutely couldn't do enough! Her customer care skills are super so good to talk to

...

someone who actually caresThanks Deirdre

read more

Ashish Philip
18:29 03 May 22
One star to the ewt management as they have changed the rule that if you refer any person, you will get 5 salt bags ( I know it is only 50 euros but it matters).Now what ewt does is, they add it to your account but you can't use that money to

...

purchase salt and if you opt for any other service, you can't use the whole amount in the account for buying that service. How bad that is ?So we will refer to increase your business and in back what we are getting ? Some point which we can't use to buy the services from you.Changing back to 4 🌟s as they have provided me t services.

read more

Panayot Panayotov
10:28 29 Apr 22
Amazing team, using them for years. Awesome support, Ben was very helpful. Very happy wIth their products. Thank you.

sarah g
20:23 28 Apr 22
Fantastic from start to finish. Deirdre was excellent, she was so knowledgeable on all the products and helped every step of the way. She couldn't have been more helpful and was so friendly, a credit to the team. I had rang several companies but her

...

knowledge and helpfulness on the call were the reasons we chose EWT. Vladimir was amazing and fit a new tap into a very awkward sink, he was brilliant. We replaced a broken softener and have noticed a huge difference from our new water softener already.

read more

sreyashi bhattacharyya
13:41 27 Apr 22
We are using water softener from EW Technologies frOm 2020. We are very happy and satisfied with their services. They made the installation process very easy. They explained everything very clearly. They are very prompt in their responses.

shinto benedict
11:31 25 Apr 22
Using the ewt water softener system for 3 years. Excellent product- keeps water limescale free. Massive reduction in issues with shower heads, taps etc and the kettle remains spotless.Excellent customer service all throughout.Recently ordered G21

...

drinking water system and agent Ben was super helpful, would recommend to anyone, regardless of their water hardness.

read more

Stephen Galvin
09:30 20 Apr 22
A friend recommended EWT when we moved into our new home. Really happy with the service. Booked online with zero hassle. Vladimir, our engineer, arrived on time, was an absolute professional who advised not only on the water system but other things

...

around the house. We are so glad we went with EWT and will be with them for years to come.

read more

Danny Roe
14:25 19 Apr 22
I heard great things about EWT from a family member and when i contacted them to get set up i was really impressed by the professionalism. I was dealing with a girl called Deirdre and she was so helpful and easy going which made me confident in my

...

decision to join them. The water in the house is much better and the water filter is a great asset if you are a big water drinker. Thanks for a great service EWT.

read more

jinesh jills george
08:51 19 Apr 22
The system has been working just fine and I thankfully doesn't experience limescale problems anymore. I am supper happy with Beno their rep who helped me through the process....Thank you guys

Laura Kinsella
16:44 14 Apr 22
Spoke with deirdre for our install she was so helpful and very friendly answered all questions that was asked , delighted with install and Deirdre is a credit to the team

Denise Donoher
12:22 14 Apr 22
Highly recommend EWT and if your lucky enough like I was today to speak with Victoria. She was incredibly helpful and efficient. Explained everything I needed to know very well. I certainly am a happy customer 😊Denise Castlecomer

kayleigh carthy
14:46 13 Apr 22
Deride was very helpful to my husband on the phone she couldn't be anymore helpful to him

Anil Antony
23:09 12 Apr 22
EWT were so efficient and professional. Very happy with installation and service. Mr Ben were so helpful and explained everything very well I would highly recommend EWT.....

rosalind lambe
13:29 12 Apr 22
Booked new system with Victoria she was a lovely girl to speak to and very very helpful. She is a credit to your company ...

Victor Mc Manus
08:16 08 Apr 22
EWT were so efficient and professional. Very happy with installation and service. Ben and Tomas were so helpful. I would highly recommend EWT.....

SUNIL SUNNY
10:54 06 Apr 22
Very easy communication & booking.. We had a very good customer service experience and Mr.Beno went through the whole system in depth. Mr.Pat the installer was excellent, explained everything simply & very clean neat job 👏

Madhu Mathai
08:32 06 Apr 22
I am very pleased/happy with the service.Also I would to appreciate Ben for his service.

Kathleen Lestrange
11:16 04 Apr 22
Talking to Ben on the phone again to book another appointment for a service. Very nice to deal with and helpful always great service from ewt.

John O'Loughlin
08:42 04 Apr 22
EWT is very professional. They've looked after our system for more than 10 years now. Always been reliable.

rasha shembesh
08:17 30 Mar 22
Great product, can't believe the difference in water quality. The service and installation were fantastic very professional. Thank you Vladimir.

John Bowen
13:06 28 Mar 22
EWT give a great service. Ben has been so helpful its a pleasure to deal with him. Great product.

Julia P
11:47 28 Mar 22
Fantastic & great quality service! For the first time I had an issue with the app today and have to call CS. Ben was extremely helpful & friendly and was able to resolve the issue my issue in seconds and offer the best possible solution. Appreciate

...

your help!

read more

Jean Sadza
09:32 28 Mar 22
I always found them most helpful.I am vert happy with the service and system. Friendly service.

Joe Lambe
09:24 27 Mar 22
The only problem I had was efficiently rectified by Ben the EWT customer service guy,who was so friendly and helpful and managed to arrange Paul the engineer who called at MY convenience. Paul was so polite and professional and had the job completed

...

in less than 30mins. Superb service and exemplary staff!!!

read more

Vynn Concepcion
11:36 26 Mar 22
Vladimir was the one who installed our water system and he was great. He explained everything clearly and he went beyond and gave us advices.

Hamza Nehal
18:26 25 Mar 22
Great products and service. Engineer who came for installation was very nice and advised with which product would be best suited to our needs. Staff on call centre for any queries was also very helpful, I mainly dealt with Ben so he took care of our

...

order booking and installation. Recommended.

read more

Jemma Shine
10:42 23 Mar 22
Was dealing with deirdre in the office , she was very helpful and knowledgeable to the products .

Snowy Lucas
11:53 22 Mar 22
I had a recent experience of dealing with Deirdre from Customer Services. I have never had a water filtration system so didn't know a lot about it. Deirdre was very professional and was able to talk me through the products that where available,

...

what suited my situation in my house at present and what would be best to choose.I would highly recommend her and this company for their services.

read more

James Friery
18:56 21 Mar 22
Recently upgraded to a new Water Softner from EWT. Dealt with Claire, who organised a site visit in order to select the most appropriate Softner for our needs. Claire was extremely helpful and professional during all correspondence. I would have no

...

hesitation in recommending this company for any of their products or services.

read more

Paul McKeon
11:29 21 Mar 22
Always top class service from EWT. Recently had to change my softener and the process made very easy by Ben on the phone. Everything is straight forward and any issues dealt with promptly. Recommend this company.

James Hannigan
07:55 13 Mar 22
Finally EWT appear to get their act together in relation to customer service. Following a poor experience last year, I made an appointment with EWT engineer, who turned up on the agreed day and on time.Credit where credit is due. Well done on

...

approved customer service.

read more

Manjush Mathew
08:26 11 Mar 22
EWT installed the water softener today and we could notice straight away the difference in the drinking and non drinking water. We had a very good customer service experience , through out this process Beno helped us in choosing the right product.

...

Beno explained on every product that helped us choosing the right product and sticking with EWT. Tomaz installed it and he was such a great engineer and he explained us very well how the system works. very happy and highly recommend

read more

ramsvvss
09:05 10 Mar 22
Smooth installation experience from Thomas and Great customer service from Ben. Highly recommended.

Don Ryan
23:56 09 Mar 22
Great customer service .

Alberto Rodrigo
10:50 08 Mar 22
UPDATE: Customer service has improved incredibly. The follow up after an order from both the app or over the phone is almost "annoying". You get reminders via text and over the phone and you can also reschedule easily. The app is now working for me

...

so you can benefit of substantial discounts on products. Great experience overall. I have a water softener, fresh max and the water drinking system.Cons: they send you emails to register and even if you try or contact them to their customer services email address, they won't respond ... incredible poor experience. I haven't my account setup after more than a month and they've just stopped replying my emails.Pros: once you book online, the follow up and the installation from the engineers is excellent.

read more

Esraa Ali
15:39 07 Mar 22
EWT installed a new system for us, the technician was very quick and clean , the salesman Ben was amazing and very helpful and explained everything to us before the installation....Ben also arranged a group quote for our state... thank you EWT

Kim Morrissey
13:58 06 Mar 22
EDITED: review edited as I received a phonecall from Ben who is trying to rectify the weekend install date. His customer service was exceptional and he will contact me tomorrow to arrange a specific date. Thank you BenOrdered water softener after

...

speaking to staff member on phone. Reassured that they would install on a Saturday. After a lot of messing around over a period of a week, I was told that they don't install on weekends. The lack of communication and the rudeness of the staff was not appreciated at all. Would not recommend on this basis alone.

read more

Elena Soto del Pecho
10:21 06 Mar 22
Great customer support. Ben was very helpful and efficient. Thank you Ben

Mi Jackie
08:21 06 Mar 22
I am very happy for the service Vladimir provide, very professional and very polite, have EWt in my house for 10 years work very well, so I call them out to install a new one for my new property, very good service and very polite, Vladimir knows

...

what he need to do!! And finish very clean! I will definitely go back if I have more property need install water softer system!!

read more

Ben Ong
13:13 04 Mar 22
Beno was very friendly and helpful would absolutely recommend EWT great communication from them and an all round excellent service.

Sweedle Dsouza
19:08 01 Mar 22
Thank you EWT for sending your best technician Tomasz.K. We are pleased with his work. He was well organised from the start till the end and kept our house neat and tidy ,completed work on time. He also explained us about how the system works. Thank

...

you Tomasz. From Nelson and fly, celbridge.

read more

Padraig Lavin
17:56 17 Feb 22
Ordered a new tap and salt was delivered promptly and was told tap I ordered would not work with my pressure, engineer then put in appropriate tap and everything working great. Great service!

Pat Campion
10:49 17 Feb 22
I have been a customer of EWT for many years and have to compliment them on the service received. The staff are friendly and helpful at all times. This allows us to have good quality drinking water at all times.

Jerry Boy Music
09:11 17 Feb 22
Loving my new drinking water and water softener. Customer service is fantastic and very helpful. Engineer Thomas was very friendly, polite and most importantly is expert in his job

Shivananda Nayak
10:21 16 Feb 22
Had a very good experience. Beno from the customer care arranged Franco who was very professional and exceeded my expectations. Very neat work indeed. Didn't have to move my bins under the kitchen sink. Thanks Beno and Franco.

machavez84
09:49 13 Feb 22
Great job installing the water softener + reverse osmosis filter in my place. Would highly recommend Vladimir as a technician, great job and very helpful.

Mathews Mathachan
22:35 08 Feb 22
I am very happy for the EWT softener with drinking water filter. Highly recommend because no lime scale and in the taps as well as clear and pure water for drinking.

Stephen Fay
08:11 06 Feb 22
Great experience. Gave me an appointment that suited. The installer Vladimir was excellent, friendly, neat and did a great job.

Kanti Lal Patel
18:13 01 Feb 22
EWT engineer Vladimirs is a brilliant, professional and a gentle man. Arrived as scheduled and done a wonderful job. I highly recommend EWT to every household in Ireland.

jo lowe
12:09 01 Feb 22
Great service, very fast. Delighted with the result. Vladimir was very helpful

Gabe Iches
20:21 28 Jan 22
Vladimir is absolutely brilliant engineer. Very quick and smooth transaction and service in overall. Very happy customers. Thanks to all EWT team.

Peter Carney
11:22 25 Jan 22
I would give 5 stars but I was double charged for a new tap and have had no responses from anyone despite, phone calls and emails.

sampath kumar
16:17 19 Jan 22
Got water softener recently installed. Happy about it. Can see the. Difference

Abey Ali
15:29 17 Jan 22
Excellent professional service Vladimir

Mikolaj Ratajczak
17:23 16 Jan 22
It's only been two months since an "EWT 612 Gold Series" water softener has been installed in our well supply, and already we've noticed a substantial improvement in the water quality. Above and beyond everything else – no more lime scale! Prior to

...

the EWT water softener being in place, I had to descale my coffee machine and kettle approximately every 4 weeks due to whitish residue known as lime scale build up - it was just a disaster. The engineer who fitted the water softener and the carbon filter, was a true professional – helpful, knowledgeable and extremely tidy. After he left, the first thing I did was descale the coffee machine and the kettle – fast forward 6 weeks and they are still sparkling clean, just like new! Suffice it to say I was a little bit skceptical about the promises made by EWT and yet I have to admit that the EWT crew have under-promised and over-delivered! In conclusion, I am recommending this solution to my friends, neighbours,family, and anyone else out there who's struggling with lime scale!EDIT in 2020: it's now 5th year running since the water softener was installed, and thanks to its stellar performance the investment reached break even point as from this point onwards net savings are generated. The reason for it is because my previous softener would use 4 bags of salt per annum, and I had to replace a heating element in the boiler once a year - that's how bad it was. I haven't done this since EWT was fitted, the kettle is still like new and we saved a small fortune on the descaling solutions for the coffee machine. Serviced once a year, the system works a treat and the 5 bags of salt included in the maintenance plan are enough to get by thanks to the system being smart and only flushing when required, rather than when preset or scheduled. Highly recommended, still!EDIT in 2022: 7th year running and still absolutely flawless - still haven't had to replace a heating element in the boiler and that alone has covered the cost of installing the water softener. The annual maintenance was carried out as part of the service plan - the technician showed up on time, did his job and didn't leave any mess behind + full C19 compliant, what else could one ask for. Seriously, a no-brainer for anyone who's dealing with hard water either at home or at work - you will not be disappointed.

read more

Rory O'Shaughnessy
11:18 14 Jan 22
Fantastic service from start to finish. From my initial booking of the appointment , to the arriving of the service technician Pat. Pat rang me well in advance of his arrival, and came in with full covid compliance. Lovely man, had a great chat

...

while he carried out his work, fast and efficient, Zero mess, and he took away all the old filters etc. Now it had been almost 2 years since I got mine changed and I'd forgotten how amazing the water tastes with the fresh filters. I won't leave it as long next time. If anyone is considering installing EWT water products I can vouch for them 100%. Flawless service. And the amount of plastic saved from not buying all the bottled water , not to mention the cleaner and tastier water.Thanks to Pat and the team ✌

read more

Milita Nevedomskaite
22:42 25 Dec 21
Very professional service. highly recommended for those who is looking the best for their house.

Pauline Boyce
22:42 22 Dec 21
Excellent service and value

Amanda
18:22 20 Dec 21
Excellent service from our engineer Paul. The water has changed drastically now after 3 months having it. Highly recommend EWT. 👍

Darren Murphy
14:20 20 Dec 21
Good system. Water tastes great and no more limescale stains everywhere, neat installation and good customer service. Thanks, Darren and Melani
Next Reviews